03 Aug, 2021
Severe Drought Across Prairies Highlights Urgency for Adaptation Support in Agriculture
The severe, ongoing agricultural drought across the Prairie provinces is a concerning glimpse into the region's future climate. Alberta alone is expected to pay out $1 billion in crop insurance as a result of the drought, while Saskatchewan has announced additional measures to support farmers struggling with dry conditions. In Manitoba, drought conditions are currently classified as "extreme" or "exceptional" by the Canadian Drought Monitor –where extreme and exceptional are defined as events that happen once every 20 years or 50 years, respectively.  There are different ways of defining drought, so it is important to establish common ground.
Drought events across the Prairie provinces are anticipated to grow in frequency, duration, and severity over the coming decades as a result of climate change. Such a future could be devastating for the region's economy: the Prairie provinces account for more than 80% of Canada's agricultural land and more than half of all income generated by farming is earned on the Prairies.
Farmers across the Canadian Prairies have, over many generations, proven adaptable to changing climate conditions. Existing practices to cope include zero-till agriculture, changes in crop varieties and rotations, feed-stockpiling, and agricultural insurance, amongst others. However, as highlighted in the "Canada in a Changing Climate" Prairies chapter recently released by Natural Resources Canada, the warming climate is expected to amplify weather extremes beyond the recent experience of Prairie farmers. While farmers may benefit from higher temperatures and longer growing seasons, other projected impacts, such as more frequent and intense droughts and floods, pose serious threats.
Support for Farmers
Support for farmers to adapt to climate change is provided primarily through Agriculture and Agri-Food Canada's Canadian Agricultural Partnership (CAP). This $3 billion investment by federal, provincial, and territorial governments strengthens the agriculture and agri-food sector in Canada. In the Prairie provinces, funding is made available through federal-provincial cost-share programs, such as Ag Action Manitoba, Alberta's Environmental Stewardship and Climate Change Program, and Saskatchewan's Farm Stewardship Program.
Each program offers some support for boosting farm-level climate resilience to drought, such as improved water retention infrastructure (e.g. dugouts), but more needs to be done. To date, CAP programs have generally placed greater focus on farm-level actions that contribute to climate change mitigation efforts, like reducing emissions or fertilizer inputs. Given the changing climate risk profile of the agriculture sector, efforts that boost resilience to more frequent and extreme weather, deserve much more attention and investment.
Fortunately, present and future climate risks facing the ag sector are being better defined through research, as highlighted in the Sector Impacts and Adaptation chapter of the "Canada in a Changing Climate" series. Translating what such climate risks mean for agriculture in the Prairies is a key service that ClimateWest aims to support. But significantly boosting climate resilience will require much more than the translation of risk—a commitment to levelling up the planning for, and funding of, climate risk-reduction is essential.
As the federal and provincial governments race to provide support and relief for the Prairie region's drought-stricken farmers and ranchers, they must look towards the long-term resilience of agriculture. With the Canadian Agricultural Partnership set to expire March 31st, 2023, and consultations for the next Agricultural Policy Framework to replace it underway, there is opportunity to bolster funding and support for adaptation across the agriculture sector. Doing so will safeguard Prairie farmers from future droughts.
Canadian Drought Monitor Map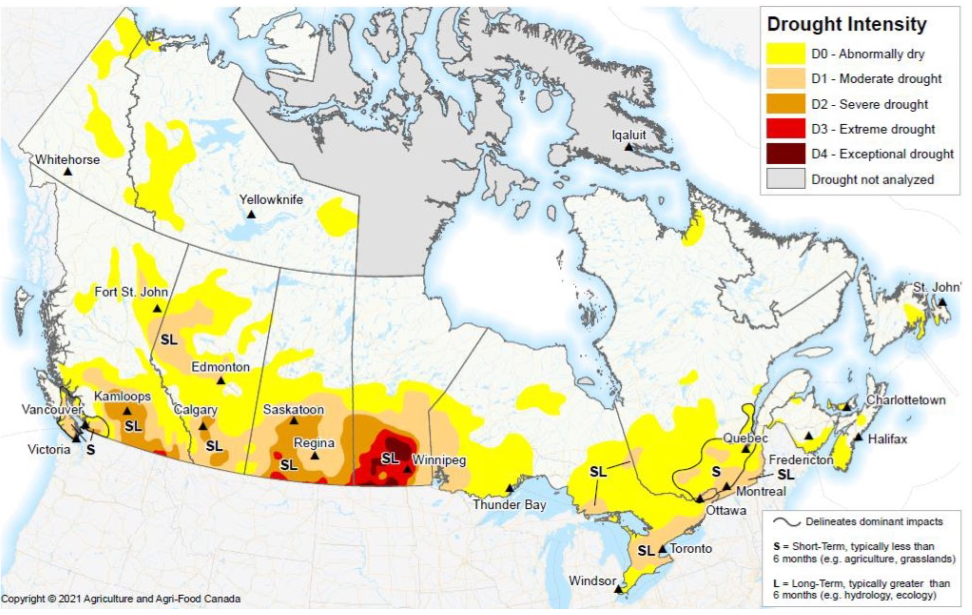 Agriculture & Mental Health
Drought is a very stressful and event for those working in agriculture. There is a host of national and provincial resources, many with an agricultural-specific experience, available free of charge to anyone seeking support. Visit DoMoreAg.Ca for a complete list relevant to location.