21 Feb, 2023
Meet Taya Triffo
ClimateWest is growing! Last month we welcomed Taya Triffo as our new Network Coordinator. Taya is keen to connect Prairie-based communities with relevant, meaningful, and accessible climate adaptation resources. Whether you are seeking access to climate data, or wanting to develop a climate risk assessment, Taya can help you tap into the ClimateWest network, find the resources you need, and make progress with your climate adaptation goals. Read on to find out more about Taya…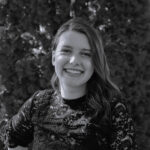 Where did you grow up?
I was raised in Regina, Saskatchewan. As a kid, I went on a lot of road trips to visit family in Southey, Midale, Estevan, and Lloydminster. In the past few years, I've enjoyed exploring more of the Prairies!
Where is your favourite place to be in the Prairies?
I have lots of good memories of finding a nice trail or picnic area to enjoy the prairie sunrises and sunsets. My family and friends like to go for walks in the Regina area – around Wascana Lake or the Wascana trails. Last Mountain Lake Bird Sanctuary and Lac La Ronge were also special places to visit! 
What is your proudest achievement?
Recently, I earned my masters degree from the University of British Columbia. I'm a pretty big nerd, so I naturally enjoyed the research and classes. Looking back, I'm surprised and grateful for how much I learned about myself during that process. I developed a lot more confidence and found my stride in keeping a work/life balance.
How do you like to relax?
I've been practicing hot yoga for the past few months. It's new to me, but it's quickly become my favourite way to unwind.
In one word, how would you describe your role with ClimateWest? 
Connector! ClimateWest serves such a diverse audience. Agricultural communities, municipalities, provincial policymakers, and non-profits all reach out to us for climate adaptation support. In all of those cases, my job is to help connect those folks with the resources and people they need to make adaptation happen in the Prairies!
What do you enjoy most about your job?
I love that I can bring all sides of myself to this role. I've worked in provincial agricultural policy, urban gardening, and urban climate and greenspace planning. I enjoy economics and spreadsheets, but I also enjoy creative and arts-based approaches to climate action. For most jobs, I would say it's a strange combination of experience and interests. However for a network coordinator who has to engage with a diverse audience, it's a great combination!
If you are looking to prepare your community or organization for the effects of climate change, Taya will be able to direct you to valuable climate adaptation resources to help inform your decisions. Please reach out to her with any questions!
Read more about Taya's background in climate adaptation.