14 Jun, 2023
A Snapshot of the Changing Prairie Climate
People throughout the Prairie provinces have been adapting to the shifts in weather between seasons for generations. This variability is what helps make our region so unique. But the Canadian Prairies are a hotspot for climate change—not just within Canada, but across the world. The region is projected to warm much faster than the global average and the resulting risks to ecosystems, communities, and economies will be substantial.
The good news is that a large majority of Canadians are concerned about climate change [1]. However, reducing the pollution that is causing climate change (mitigation) tends to be the focus, while making changes to prepare for a different climate (adaptation) is often overlooked. Mitigation is crucial, but even if large-scale, international emission reduction efforts are made today, the Prairies are projected to continue warming. As discussed at our recent inaugural forum, in accepting the reality that we are not returning to the climate of the past, we can move forward together. Along with global mitigation efforts, local actions to reduce risk and vulnerability to our new climate will be essential for future prosperity in the Prairies. It is therefore vital to understand the potential hazards of climate change, how to prepare for them, and how to continue to thrive in our present and future climate.
"At ClimateWest, we understand it can be daunting to know where to start when preparing for climate risk. Climate science, data, and technical jargon quickly become overwhelming and can cause us to feel climate anxiety," states Kerra Chomlak, ClimateWest's Executive Director. "The first step in becoming more prepared is to learn what to expect from our changing climate, and how it will affect us and our communities. ClimateWest can help people take that first step by making the information they need more accessible and easier to understand."
What can we expect from our changing climate?
ClimateWest's recent report, A Snapshot of the Changing Prairie Climate, written using plain language is designed to be an accessible, timely, and accurate snapshot of the past, present, and future climate for those who live in Alberta, Saskatchewan, and Manitoba. Prepared by the Prairie Climate Centre, the report highlights three major weather and climate hazards specific to the Prairies, and how they are affecting, and will continue to affect, our way of life across seven sectors.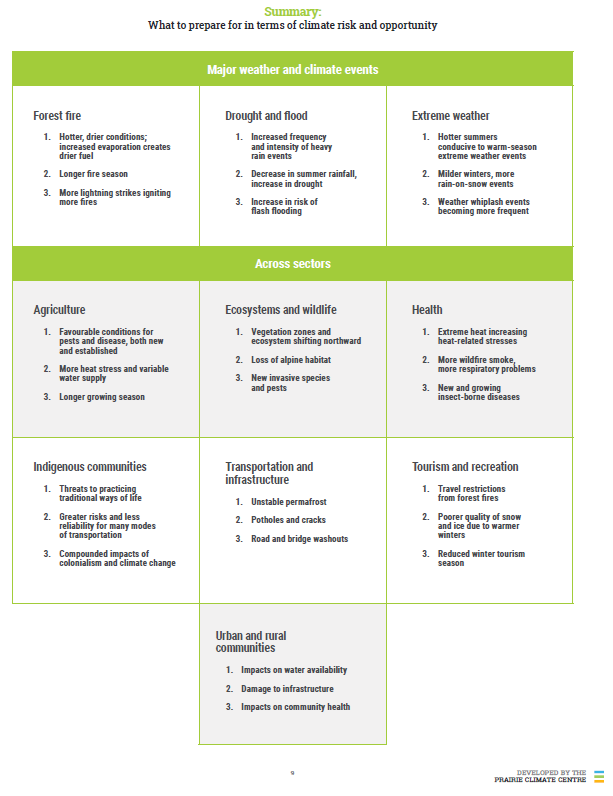 The report summarizes climate projections for the end of this century under a high emissions scenario using data from the Climate Atlas of Canada. Some of the key changes include:
| | |
| --- | --- |
| | The number of hot days, when the maximum temperature reaches or exceeds 30°C, is expected to triple or even quadruple across the southern Prairies. |
| | The number of cold days, when the minimum temperature reaches -30°C or colder, will decrease across the entire region, most notably in the north, where communities may witness a huge reduction in the number of cold days. |
| | Winters, springs, and falls are projected to become wetter. |
| | Summers (especially in the south) are projected to become slightly drier, even though large rainstorms capable of causing localized flash floods are also projected to increase during the summer. |
As the report explains, virtually all ecological, economic, and social systems—meaning how we live with nature, how we make a living, and the way we relate to others on the Prairies—are dependent, either directly or indirectly, on a stable climate system and will therefore be affected by these changes.
Prairie-based examples are highlighted in the report to give context to the findings, such as the 2013 flooding in Calgary and the development of the City of Selkirk's Climate Change Adaptation Strategy. The report concludes with some practical steps that concerned Prairie dwellers can take across four areas:
Advance local policies, planning and preparedness
Shape the conversation about the changing Prairie climate
Contribute to building local climate resilience
Share "citizen data" to advance reporting and research on climate change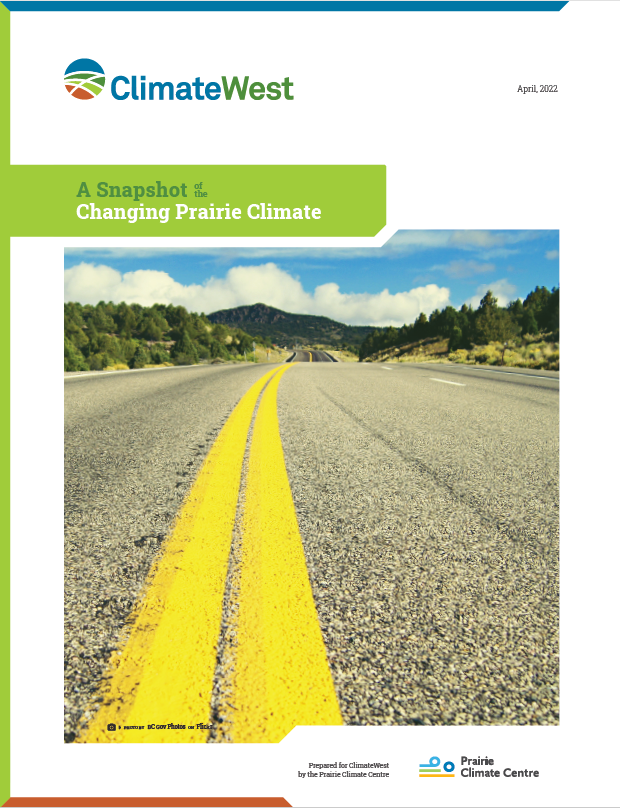 Whether you read the report from start to finish or pick specific sections according to your interests, we hope that this resource helps you to prepare your home, community, and business for the risks and opportunities caused by a changing climate.
To learn more about what to expect from the changing Prairie climate, read the full report.
What next? If you have questions about this report or how to take the next steps, reach out to our Help Desk by calling 204-995-6514 or email us at info@climatewest.ca. You can also check out our publications page for further resources that might be relevant to you.
Confused? We strive to talk about climate adaptation in approachable, easy-to-understand language. However, if you are unsure of any of the terms or concepts used in this article, visit our Get Started page or take a look at these resources:
References
Climate, What Do Canadians Really Think About Climate Change?, 2023